Rifle, YTH/ADJ Spring .177/CYT6M77
700 ر.س
The Crosman Tyro Air Rifle is an ideal way to get young people interested in the sport of shooting. It is relatively easy to use this air gun, It requires only 22 pounds of force. Fitted with spacers that allow the length of the corrosion-resistant hexagonal steel barrel to be changed, abrasion resistant, convenient stock, suitable for all weather, Adjustable rear sight and front fiber optics.
Rifle, YTH/ADJ Spring .177/CYT6M77

Delivery & Return

سياسة التوصيل والمرتجعات

Ask a Question

Rifle, YTH/ADJ Spring .177/CYT6M77
... people are viewing this right now
---
Origin: Crossman Company
Energy: —
weight: 2.2 kg
height: 95 cm
Barrel: —
the speed: 220 m/s
caliber: 4.5
Throwing system: Individually
Related Products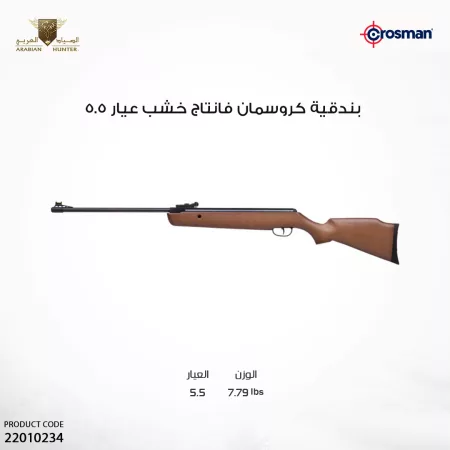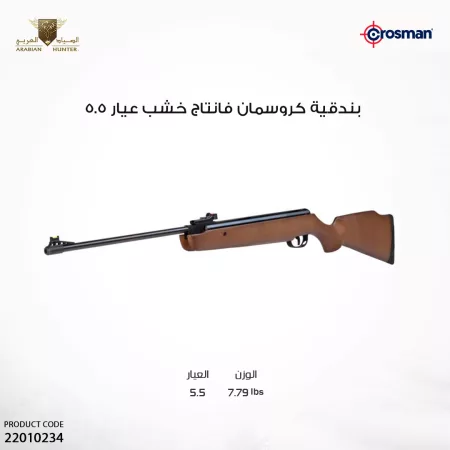 Rifle, Vantage NP .22 CVAN82W
790

ر.س
The rifle is powered by Nitro Piston technology to reduce recoil and reduce noise by up to 70%. The handsome wood stock, forend, pistol steel barrel and lever safety provide a traditional feel. The Vantage features a two-stage adjustable trigger, fiber optic sights, and 22-gauge pellet fires at velocities of up to 950 feet per second. This rifle is considered the smoothest, and quieter ones ideal for small game hunting, and fishing, and deer, And more! "Take It Out" with Crossman.
22 caliber, broken air gun barrel
Powered by Nitro Piston Technology for more accuracy, speed and more power
solid, Solid wood stock and front handle with pistol steel barrel
Telescopic mounting rail for mounting accessories
Two-stage adjustable trigger